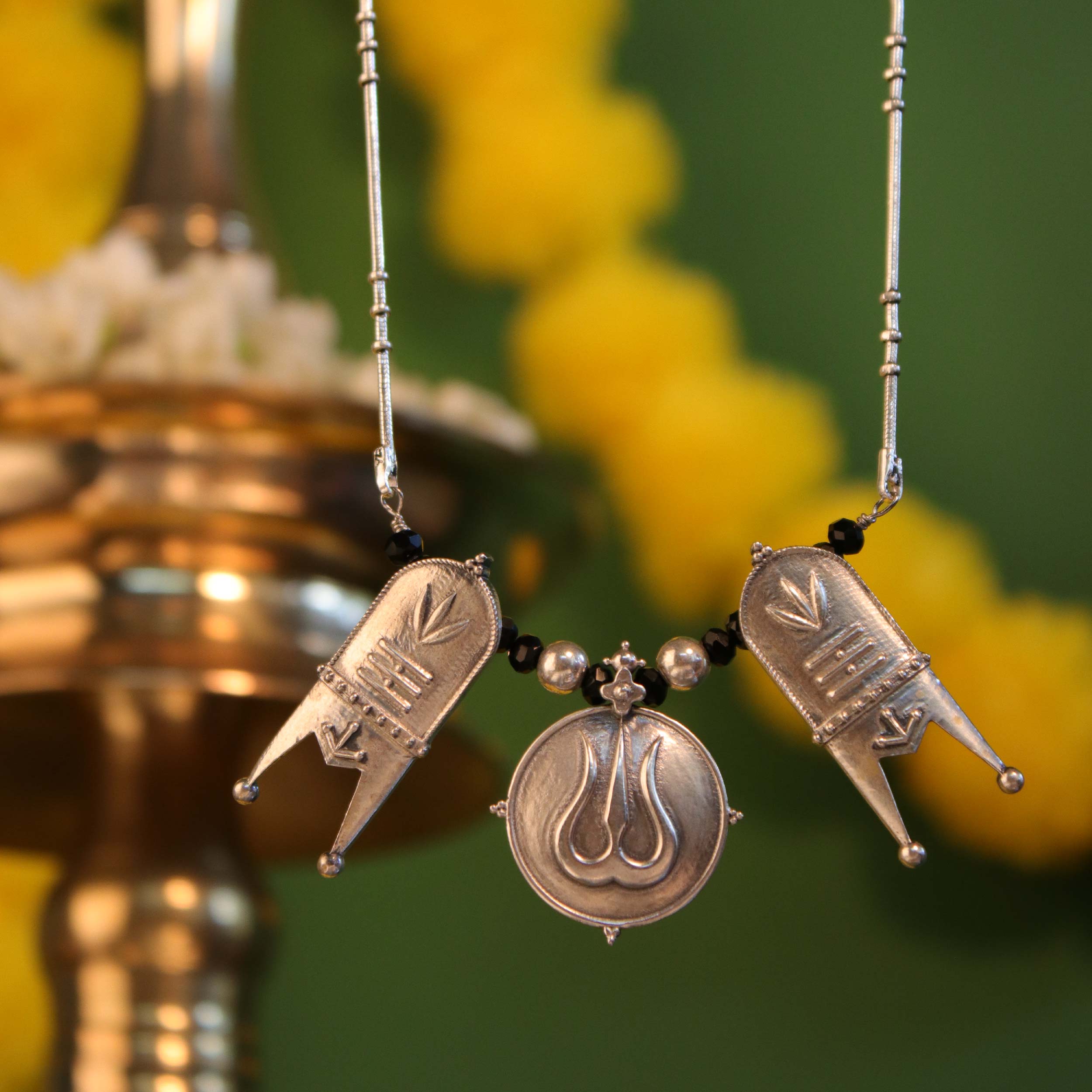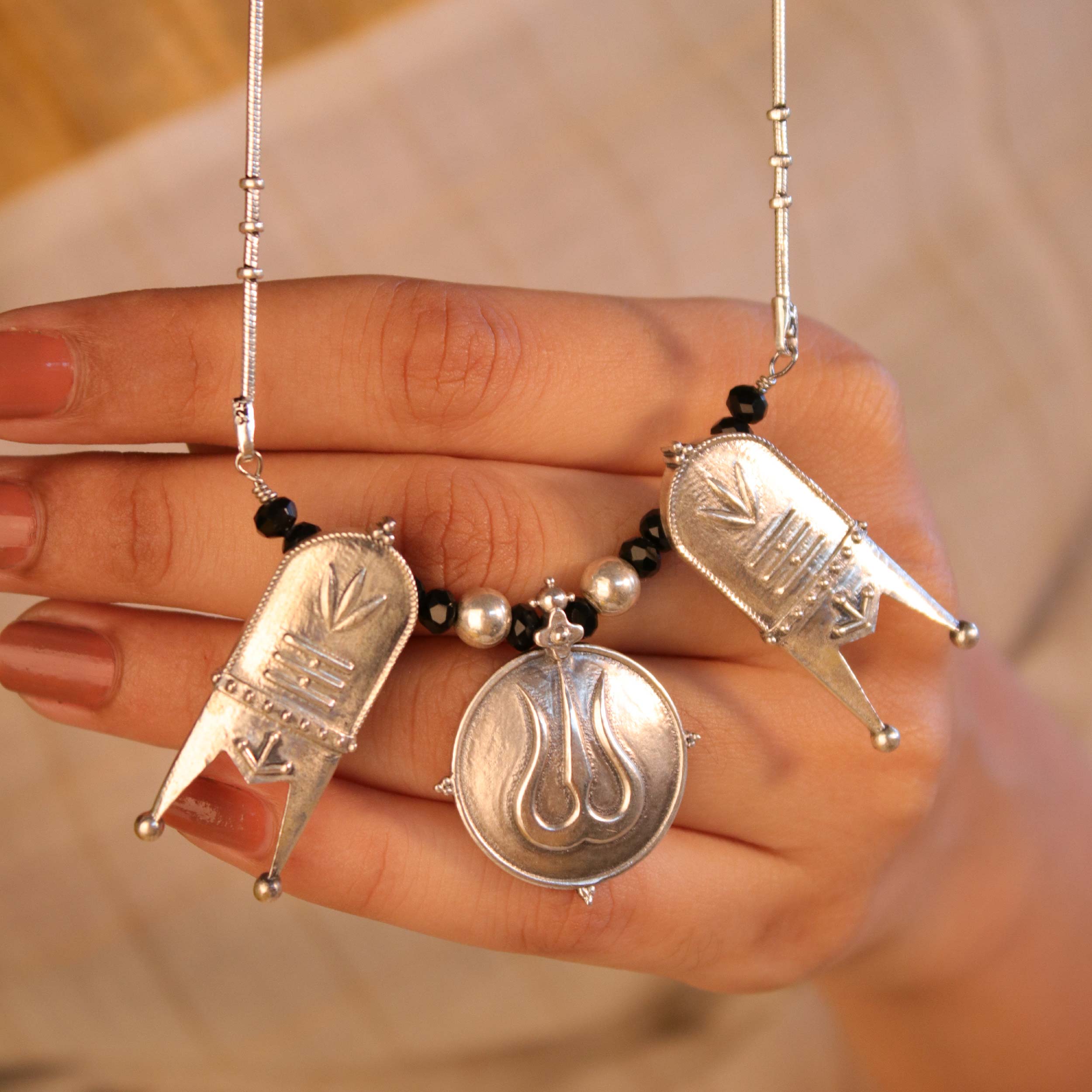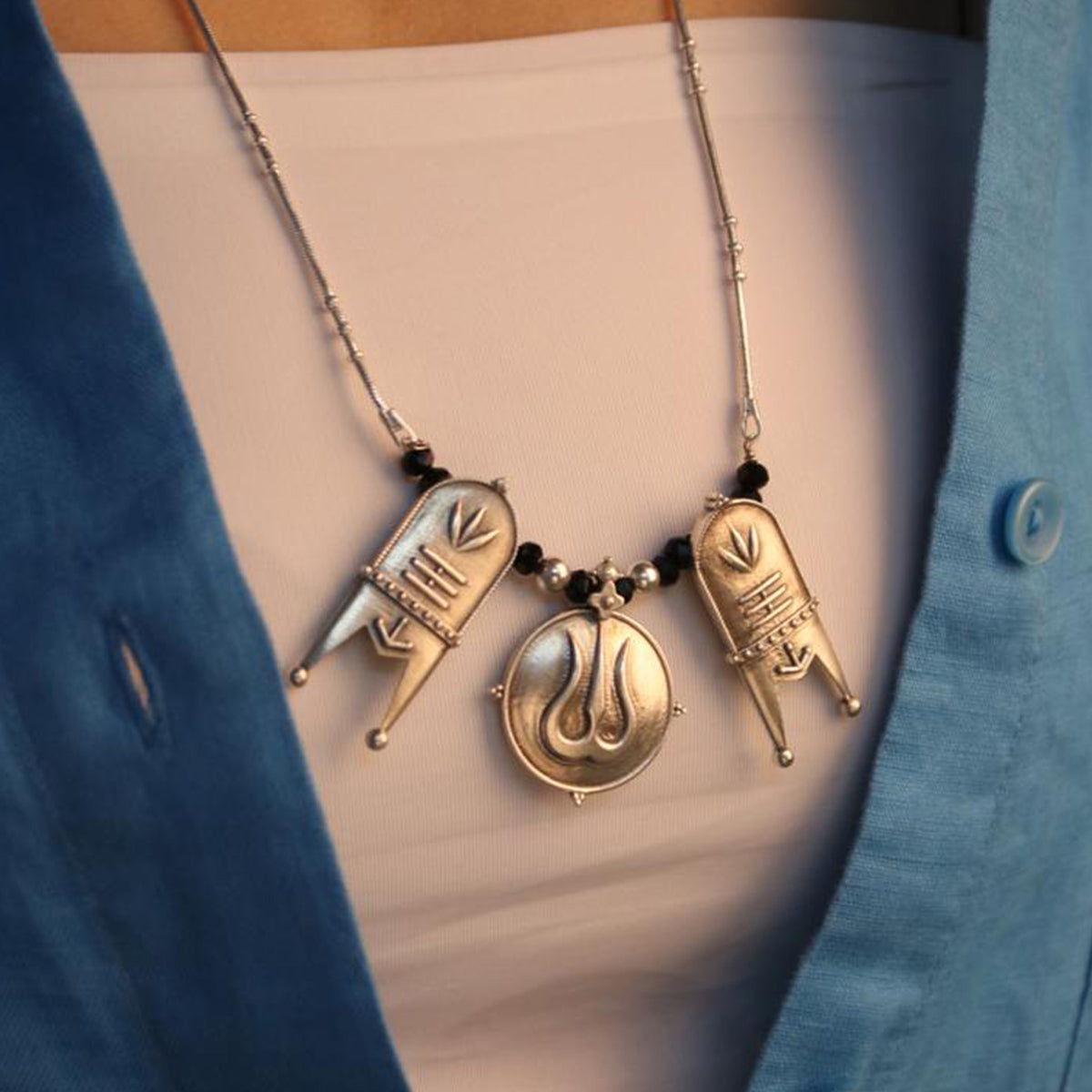 Sadashiv Taali Silver Chain by MOHA
Necklace length: 35 cm
Necklace circular length: 24 inch (61cm)
Weight: 20.6 gm ( Approx) 
Material: 92.5 Sterling Silver
Type: Necklace  

A thali is the sacred thali pendent worn by South Indian (Tamil) brides post-wedding. Starting with yellow thread to gold mostly, we at Moha are presenting a little contemporary version in silver. 
The symbols in this Thali are devoted to lord Shiva. The silver beads represent Goddess Parvati and the black ones stand for Lord Shiva. The beads are also a symbol of the various emotions and efforts that go into making relationships strong. 
Sadashiva is the omnipotent, subtle, luminous, absolute, the highest manifestation of Shiva. 'Sada' means permanent and hence the highest manifestation, an exact emotion and symbol we want for our companionship in marriage. 
Note: It can be used as a daily wear chain and can be worn on all the outfits.
COD IS AVAILABLE!
We accept Cash on Delivery (COD) orders for orders value more than Rs.3500/-
For COD orders Rs 200/- Shipment handling charges will be added to the order.

For Cash on Delivery (COD) orders, a minimum order value of Rs.3500/-  is mandatory.

Customized products are not eligible for Cash on delivery.
DOMESTIC SHIPPING (ANYWHERE WITHIN INDIA)
To qualify for free shipping, a minimum order value of Rs.3500/- is required.
Shipping cost – For Orders below Rs.3500/- shipping charge of Rs 100/- will be added.
Delivery timeline - 3 to 5 working days. 

Note:
Products mentioned as Pre-order will take a minimum of 8-10 working days to dispatch the order. 
The timeline may change depending on the area, region, National or State Holidays or delay due to customization and unforeseen conditions.
Please bear in mind that delivery to certain remote or inaccessible locations requires a surcharge to be paid, which carriers demand. If in case the delivery location listed by you lies within these areas, we will inform you beforehand about the same.
INTERNATIONAL SHIPPING (OUTSIDE INDIA)
Delivery charges – 3000/- INR. Flat for any region.
Delivery timeline - Approximately 15-20 working days.
Note:
In case, the address provided by the customer comes in ODA (Out of Delivery area) the shipping charges may vary and the Moha team will get in touch with the customer for the same before processing the order.
The difference in the surcharge for the ODA order must be paid by the customer.
Tracking Id for the order will be provided after 3-4 working days from placing the order.
The above charges are inclusive of all taxes, and fuel surcharges, include customs clearance charges in India.
The shipping address cannot be changed once an order is placed.
Our shipments are handed door-to-door only so we are unable to deliver to a PO Box.
The courier will attempt to deliver to your shipping address three times if you are unavailable. They will also get in touch with you on the phone or via e-mail, so please keep a look out for such correspondence.
INTERNATIONAL DELIVERY – DUTIES, AND TAXES
International shipments sometimes attract additional duties and taxes that may be levied on an order once it has reached the destination state or country. In all cases, the customer must clear any additional charges with the courier company to release the goods. Unfortunately, we are unable to state the exact amount of such charges at the time an order is placed since charges vary widely between states and countries.
Moha by Geetanjali shall have no liability to you for any failure to deliver goods you have ordered or any delay in doing so or for any damage or defect to goods delivered that is caused by any event or circumstance beyond its reasonable control, including, but not limited to acts of god, terrorism, riots, etc.
GENERAL DOMESTIC DELIVERY DONT'S
We do not deliver to any remote locations.
We do not carry out any deliveries on Sundays and any Bank holidays.
RETURN/EXCHANGE POLICY AT MOHA
Products purchased during SALE or EXHIBITIONS are not eligible for Return or Exchange.
Criteria for Return/ Exchange:
Return will only be initiated from team Moha for the following instance:-
The product received by the customer is defective.
The wrong product was sent by the team.
Any damage occurred during the transit.
If the product doesn't fit or mistakenly ordered the wrong product
Products purchased during SALE or EXHIBITIONS are not eligible for return or exchange.
  RETURN POLICY:
As per the discussion with our team, the customer should send back the product with barcode/tag to the address mentioned on the website .
Product without barcode/Tag and receipt will not be eligible for return/ exchange.

Refund will be initiated only after the product our team receives and inspects the product.

Shipping Charges won't be refunded.

Returns that are initiated by the Moha team will take 15-20 working days to deliver, as per the return norms of the shipping companies.

Refunds will be processed within 7-10 business days of receiving the returned item and will be issued to the original payment method. Please note that the time it takes for the refund to appear on your statement may vary depending on your bank or credit card company.
NOTE:
Customers are requested to contact us at orders@mohabygeetanjali.com or call us at +91-9930898047 (From Monday - Saturday 10-7 pm)
We take utmost care while making & packaging of our products to provide our customer the best experience.
Our products are handcrafted and may might slightly differ from piece to piece. These differences will not be considered manufacturing defects.
In case of semi-precious stones, resins, Enamel etc. they might have some irregularities due to their natural form and will not be considered as manufacturing defects.
We will not be able to guarantee the accuracy of the colors as it may vary depending on resolution and display of the screen for individual user. 
A perfect neck piece.
Loved the neckpiece. It was a gift and Moha also customised it.
I own a few pieces from mohabygeetanjali, and each one of them I hold dear. But the Sadashiv Thali Chain is my favourite piece of jewellery! Its simplicity, elegance, and rare beauty make it look good not just with ethnic wear, but with Western clothes too. There are literally no words to describe the beauty of this piece. I'm totally in love. Not just with my Sadashiv Thali, but all of Mohabygeetanjali's exquisite jewellery. ❤️❤️❤️
Thank you so much Sindhu for all the lovely words, this means the world to us! The Sadashiv thali is looking absolutely beautiful on you. thank you soo much for sharing with us a lovely photo. And your words just mean the world to us! <3
Beautiful product.
Moha's product are beautiful with creative designs, great finish and comparable prices. Timely delivery!! Hugely recommended!!
Thank you soo much for these lovely words, it means the world to us!!
Hi friends I'm an avid fan of Moha
Hi I'm an avid fan of Moha every Precious jewellery I wear of hers I'm complimented upon
I'm proud to be a Moha customer
Thank you so so much ma'am, for the lovely review, it means soo much to us!! <3
I own one and it's a complete artistic piece.. one must own this one fr sure frm moha
Big thank you for sharing your review! A wait to see you wear it soon.
Traditional yet contemporary
Makes any outfit dressy. Wore it with a tshirt and also with a kurta. It's fabulous.
That's the best part of this traditional design, and i am so happy you are wearing it even on T-shirts. Thank you so much for your review. Means a lot to us.